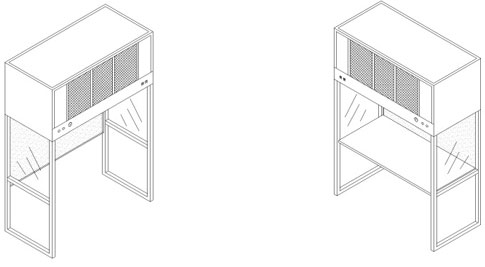 Workstation Industries' Vertical Laminar Flow Station combines the several of our most advanced products in a work station that removes particulate air-borne contamination. The vertical Laminar-Flow workstation is our most economical clean room station. The Laminar Flow bench, featuring an upper HEPA filter at 99.99% removing 0.3 micron particles or larger and lower pre-filter, is designed to meet critical contamination requirements coupled with stringent class 100 specifications. Whether your application is for biomedical or sensitive electronic assembly, WSI products the right flow ben to meet your specific application. The upper cabinet is fully welded and lined with a vibration-noise reduction liner. Noise rating approximately 60 DBA. All lamina Flow work benches are tested and certified per Fed. Std. 209E and IESP (leak test, particulate count and air velocity). For more testing information go to www.cepatest.com.

Customize your work station using any of our available frames to meet your working requirement. The cantilever frame creates a pass through application when the work space requires a larger area, the box frame offers a more traditional application and the work bench mounted frame allows you to use an existing work bench, work bench not included.
Side Panels:
Vertical Flow benches are equipped with clear transparent acrylic side panels to ensure an effective air flow of Hepa filtered air over the entire work surface. Optional side panels are as follows: smoked acrylic glass, clean PVC drapes, anodized aluminum side panels, ESD solid laminated side panels, ESD clear PVC side panels.
For additional air velocity control, add the optional clear front shield, (standard or ESD). The front shield allows the operator to increase the air velocity within the flow bench thus maximizing the cleanliness within the working environment (Note: by increasing the air velocity the noise rating might increase and small parts might be disrupted due to increased air flow).
Work Surface Options:
Vertical flow benches may be purchased with or without a work surface. WSI offers the following work surfaces: Standard clean room approved laminate, ESD to side laminate, Stainless steel work surface cap, (a sealed wood core is used underneath the stainless steel work surface cap), or a perforated stainless steel work surface (no wood core). The perforated work surface allows the air flow to move directly through the work surface, forcing any dust particles to drop to the ground.
Static Control Options:
Ionizing systems effectively neutralize static charges and reduce particulate contamination and attraction to insulative and non-grounded surfaces and objects. DC Ionization. Controllable pulse rate. Controllable polarity balance or bias.
ESD ground constant monitoring monitors the grounding system and/or the wrist strap ground. Dual.
Call Wolfco Associates at 714-377-9739 for more information.