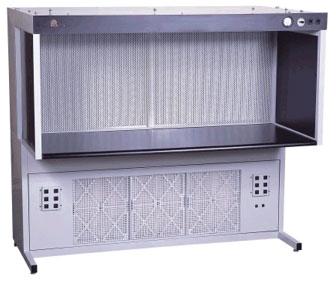 The horizontal Laminar-Flow workstation is our most popular clean room station. The Laminar Flow bench, featuring an upper HEPA filter at 99.99% at 0.3 microns and lower pre-filter, is designed to meet stringent class 100 specifications. Whether your application is for biomedical or sensitive electronic assembly, WSI produces the right flow bench to meet your specific application. Cabinets are fully welded and lined with a vibration-noise reduction liner. Noise rating below 62 DBA. All Laminar Flow work-benches are tested and certified per Fed. Std. 209E and IESP (leak test, particulate count and air velocity). For more testing information go to www.cepatest.com
For biomedical applications, the design of the flow bench creates positive air pressure within the working environment. The operator is always downstream and the product is always protected. The frame body, window boxes and filter screen all come with an epoxy powder coated finish. Optional stainless steel window boxes, filter screen and work surface are available. Transparent sides are standard, smoked glass or anodized aluminum side panels are available.
For electronic applications: With positive air pressure in the working environment and with the operator being downstream, the product remains protected and uncontaminated. The blower assembly is secured to a vibration pad and the cabinet is lined with a special vibration liner, thus, significantly reducing the vibration of the cabinet. This flow bench is ideal for sensitive laser applications. ESD or stainless steel work surface, ionization systems, electrical outlets and other accessories are available.
Call Wolfco Associates at 714-377-9739 for more information.